2023 RUGBY WORLD CUP IN SAINT-ÉTIENNE
That's right, Saint-Étienne has been selected to host the Rugby World Cup, and for a short while, the land of football will become the land of rugby.
On Saturday 9 September 2023, Italy, known as the Squadra Azzurra, will take on Namibia at 1.00 pm
Australia, also known as the Wallabies, will have the opportunity to visit us twice during this Rugby World Cup. See you on Sunday 17 September at 5.45 pm for Australia v Fiji and on Sunday 1 October at 5.45pm for Australia v Portugal.
On Friday 22 September at 5.45 pm, Argentina, nicknamed the Pumas, will take on Samoa.
On Sunday 1 October at 5.45pm, Portugal, nicknamed Os Lobos, will face Australia.
HOW TO GET TO SAINT-ÉTIENNE
BY TRAIN :
– Châteaucreux mainline station is at the heart of the new business district, providing public transport links to the city centre in 10 minutes, the Convention Centre business district in 20 minutes and the Plaine Achille creative district, Saint-Etienne Parc Expo /Zénith in 30 minutes.
– Direct TGV links Saint-Etienne <>Paris in just 2 hours 45 minutes (4 daily return trips)
– TER links Saint-Etienne <> Lyon in less than 50 minutes (more than 80 SNCF connections per day).
BY CAR :
Find out more here  ici !
And don't forget car-sharing! With Saint-Etienne Métropole, La Roueverte, Blablacar, or with friends, it's always better and friendlier!
BY FLY :
For More information  here  ici !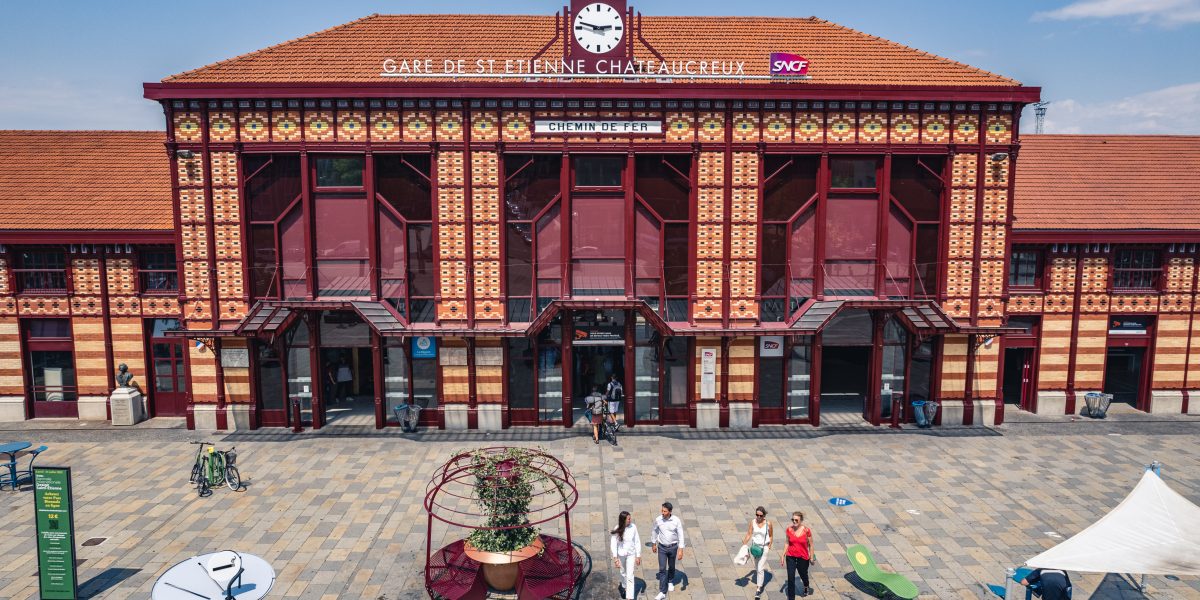 AND ONCE THERE...
Once you're there, opt for a low-impact means of transport. There's a choice of trams, buses and Vélivert electric bikes. Yes, in Saint-Étienne we like to get around in an environmentally-friendly way!
For more information, go to the "getting around"
Stéphanois Hors Cadre website
The aim? Stéphanois Hors Cadre is all about enjoying a good time in Saint-Etienne. Accessible without downloading, easy and free, the information is instantaneous.
It's the ideal way to find out about leisure activities, events and gourmet addresses in Saint-Etienne that are guaranteed to be open and available at a moment's notice. No more endless searches to find the right restaurant for a family made up of vegetarians and meat eaters, or the unexpected sporting activity, or the cool exhibition to share with friends.
We offer you good deals, nothing but good deals, in the right place at the right time, depending on the user's location, profile and desires it's just for you!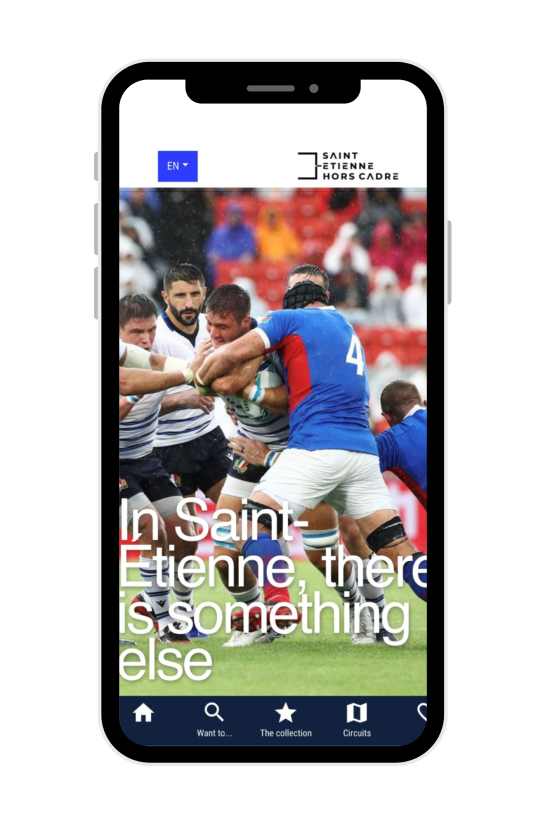 Rugby Village , guaranteed to thrill you, chill you and fulfil you!
Whether you come with your friends, your family, or alone, whether you are a rugby lover or not, you will love the Rugby Village ! Come and enjoy the shows, live music, broadcast of matches, fun activities, catering area … Share a unique moment and celebrate the 2023 Rugby World Cup! More
WHAT TO DO WHEN YOU ARRIVE IN SAINT-ÉTIENNE
We've put together a few suggestions to make your life easier:
– good places to have a drink and a bite to eat
– must-see places not to be missed
– sports and leisure activities to try out
where to sleep?
Hotels, residences, gîtes, campsites… in short, there's an embarrassment of riches to choose from. To discover our selection, click here! Be smart, the Rugby World Cup is an international event, so think about making a reservation.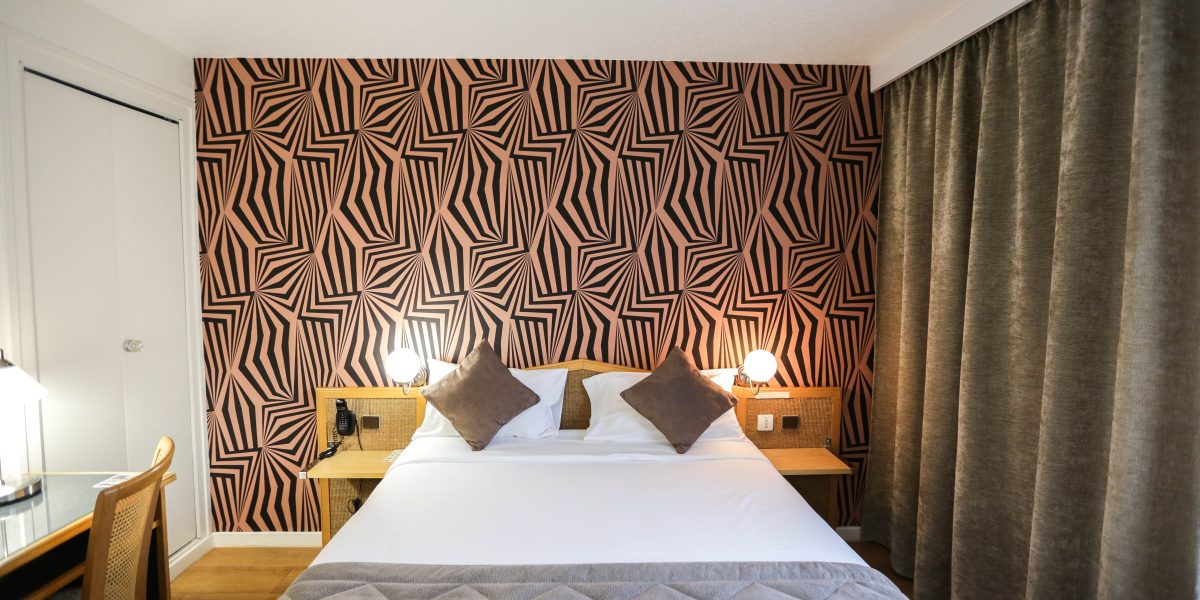 WHERE TO BUY SOUVENIRS?
Saint-Étienne has everything you need to treat yourself! With the Magasin Saint-Étienne Hors Cadre offering products manufactured less than 50 kilometres away, and designer boutiques such as Boutique Bodo, La femme à barbe and Les Cafines, you're bound to find what you're looking for!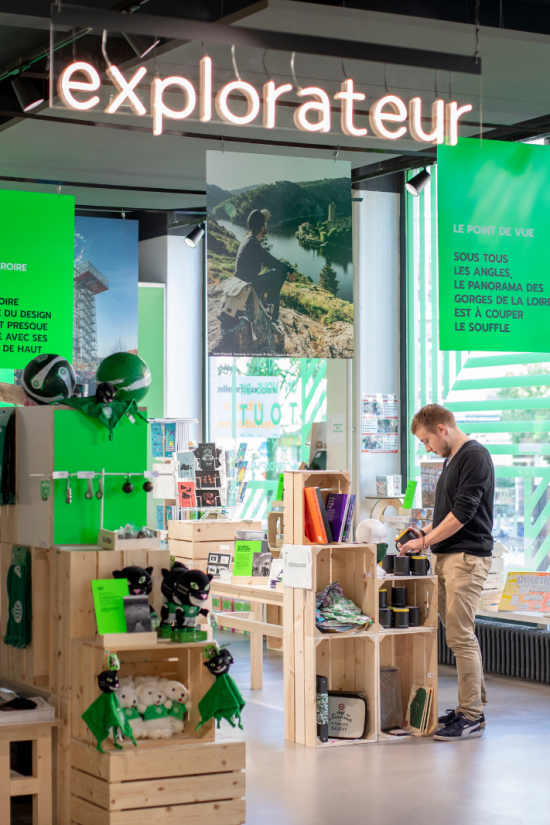 WHERE CAN WE MEET IN PERSON?
ON ARRIVAL :
On the forecourt of Châteaucreux station (fan ambassy)
DURING YOUR STAY :
At the Tourist Office (fan ambassy): 16 Avenue de la Libération, 42000, Saint-Étienne
DURING MATCHES :
At the rugby village
PRACTICAL INFO
PARKINGS
During the Rugby World Cup 2023, parking will be easier than ever. Yes, you can reserve (free) parking spaces near the Geoffroy-Guichard stadium for :
– 2-wheelers
– people with reduced mobility or disabilities.
For more information, click here!
HOW DO I GET TO THE GEOFFROY GUICHARD STADIUM?
By Tram :
From Saint-Etienne Châteaucreux station or Saint-Étienne Bellevue station: 
Line T3 towards Terrasse or Hôpital Nord
Geoffroy-Guichard stop (50m from the stadium)
From Saint-Etienne La Terrasse station: 
Line T3 towards Bellevue
Geoffroy-Guichard stop (50m from the stadium)
From Place Jean Jaurès (town centre): 
Line T1 towards Hôpital Nord
Roger Rocher stop (700m from the stadium)
By bus :
Line M9 to Technopôle stop (400m from the stadium on foot)
Line 8 to Pierre de Coubertin stop (800m from the stadium on foot)
For more information, click here!
By car :
From Clermont-Ferrand :
Take the A72 motorway
Take exit 12 towards Saint-Etienne Centre
From Lyon :
Take the A47
Take exit 13 towards Montreynaud Technopole
By bike :
Self-service bicycles can be hired 24/7 in the city.
Further information !
WIFI ACCESS
Look no further! Free Wi-Fi access is available in the main squares in the city centre. To connect, simply activate the wifi on your smartphone or tablet, click on the settings icon, then select "SaintéWifi".
FAQ – RUGBY WORLD CUP 2023
Tickets, flights, hotels, restaurants, transportation, payments and more – get the answers to all your questions for your trip to France to see the 2023 Rugby World Cup. Find out more
A LITTLE VISIT TO OUR NEIGHBOURS
If you want to go further afield, we've got everything you need!
DIRECTION LOIRE FOREZ : LA BATIE D'URFÉE, LA VOLERIE DU FOREZ
La Batie d'Urfée is a listed historic monument! If you want to go there, don't forget to book!
An enigmatic castle, the Forez aviary, dozens of aviaries, three shows… In short, enough to keep the whole family busy for an unforgettable afternoon. Read more here!
OFF TO FOREZ EST: THE HAT MUSEUM AND THE ECOPOLE
Guided tour, workshops, gallery… In short, the ideal place to find out all about hats, from manufacture to the final stage. The icing on the cake is that you can even eat in the "Chapelier Gourmand" restaurant. Find out more here!
On site, we dive in. We're off to discover the treasures of the banks of the Loire, with lots of surprises in store! Yes, it's the largest bird sanctuary on the Loire! + Find out more here!
1,2,3…PILAT: CRÊTS TRAIL
Take a deep breath of fresh air, we've got just what you need! Put on your trainers and head for the Parc Naturel et Régional du Pilat. We recommend the Crêts trail, one of the region's not-to-be-missed trails! Between the Crêt de l'Oeillon and the Crêt de la Perdrix, this walk offers some lovely views! + Find out more here!
ON THE ROANNAIS SIDE: THE CHÂTEAU DE LA ROCHE AND LAC DE VILLEREST
The Château de la Roche is the emblematic monument of the Gorges de la Loire. Here, you can travel back in time, thanks to dramatised tours and 2 escape-game rooms for older visitors. More info here!
Lake Villerest, with its waterslides, pedalos and trampolines, is the perfect place for a family day out! And for the more sporty types, slip on a pair of trainers and let's go for a walk along the water's edge or on the heights of the lake!  + More info here!