SAINT-ÉTIENNE MÉTROPOLE TOURIST OFFICE TESTS A NEW CONCEPT
The Tourist Office shop has become Le Magasin Saint-Étienne Hors Cadre. Around here, we love honouring those who make up the richness of our region and we use them to help you discover the area. That's why we've enlisted the help of a host of local producers, designers and craftspeople to bring you 100% local products and help you discover our region in our own way.
As you stroll through Le Magasin, you'll discover a sample of local talent grouped around 3 themes:
Gourmet: where you can try out local food products.
Dapper: dress to the nines with local designers.
Exploratory: let yourself be surprised by activities off the beaten track.
Now it's up to you to make your choice!  And if you're not satisfied, this is just a small selection of our region's top products. So don't hesitate to push open the doors of the local designer boutiques, which still have many nuggets to reveal to you.
By moving, the Saint-Chamond office (9 rue Ventefol, 42400,Saint-Chamond) wanted to enlarge its shop area, enabling it to offer Le Magasin Saint-Étienne Hors Cadre as it does in Saint-Etienne. What makes it special? The majority of its products are Made In Pilat!
100% ]Saint-Etienne Hors Cadre[ products
We've pulled out all the stops with the launch of our range of 100% ] SAINT-ÉTIENNE HORS CADRE [
What do we mean by this?
Created by the Tourist Office team in collaboration with partners (Altavia AURA, Imprimerie Cusin, la tôlerie forézienne, DEA Design, Printwizz, Locassiette) who have been won over by the project, these objects reflect the image of the region, with its quirky, off-the-beaten-track feel and its appeal, all produced locally of course.
The first products in a range that will expand over time, you'll love :
Our genius Loupiotte, deliberately inspired by the miner's lamp, it will be the essential accessory for your festive atmosphere but not only (in partnership with Tôlerie Forézienne).
Our "Verts à Pieds" in the colours of Sainté's districts, for a toast on the evening of the 31st. Cheers Sainté! And the matching coasters.
Our pet Babet (only available for the end-of-year period), an endearingly demanding souvenir from Pilat that's sure to leave a lasting impression.
Are you ready to see the rest? Come to the shop at the end of each year to discover our new products!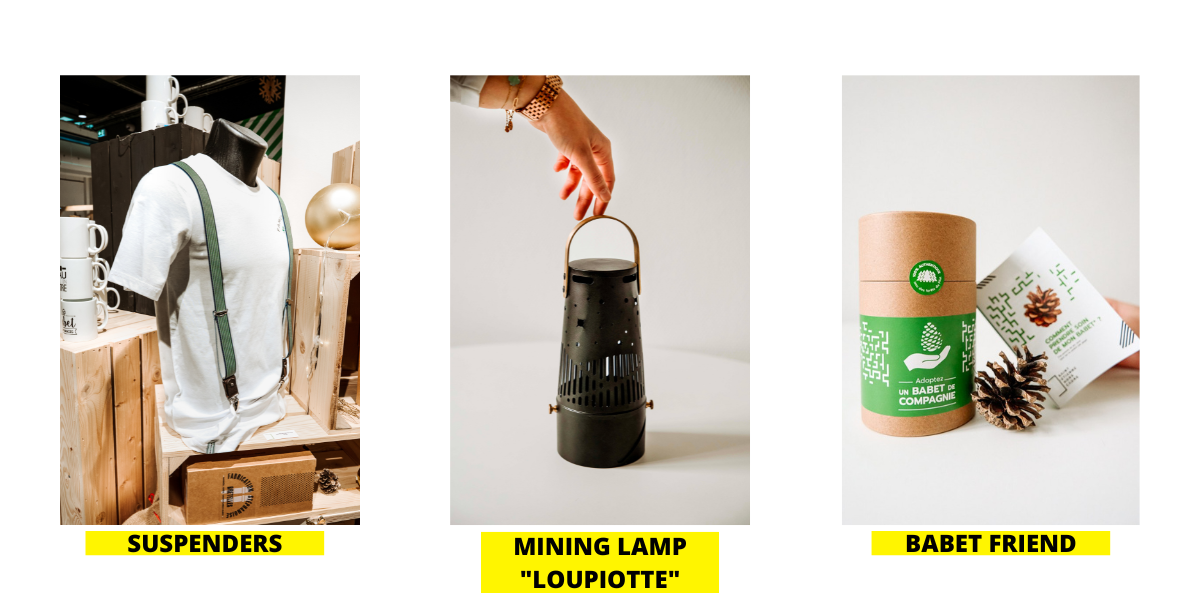 HAVE WE INSPIRED YOU TO PUSH OPEN THE SHOP DOOR?
Whether you're on foot, by car or by tram, the address is 16 Avenue de la Libération in Saint-Etienne.
By car
Just enter the GPS coordinates and off you go!
Latitude 45.4372331
Longitude 4.392967

On foot from Châteaucreux station
It takes around ten minutes, follow the directions below and you're off.
Head northwest on Esplanade de France toward Avenue Denfert Rochereau 9 m
Turn left at Avenue Denfert Rochereau 350 m
Turn left at Rue de Sorbiers 100 m
Turn right at Rue des Alliés 170 m
Continue on Avenue de la Libération, the shop is located at 16 Avenue de la Libération.
You can't miss it, the flashy green window catches the eye!
If you're in another part of town, don't worry, use Mappy or ViaMichelin or another clever tool to calculate your route.

By tram from Châteaucreux station
Don't feel like walking? Then take the tram out of the station.
You have 2 options: the T2 or the T3

Take the T2
CITÉ DU DESIGN <> CHATEAUCREUX GARE To Cité du design
Get off at the Jean Moulin stop
The Saint-Etienne Hors Cadre shop is round the corner, and the green window will catch your eye for sure.
Or take the T3
HOPITAL NORD/TERRASSE <> BELLEVUE Towards Bellevue
Get off at Jean Moulin
If you're not at Châteaucreux station, don't worry, the STAS website will give you all the information you need to travel by tram or bus, here.